The Hip-Clip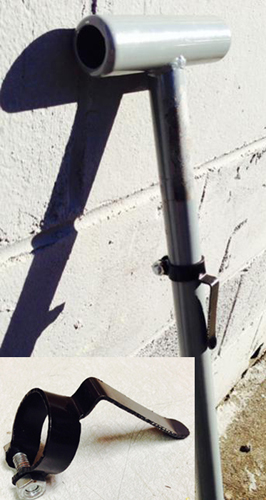 About The Hip-Clip: In September of 2013 I purchased a long handled Sampson shovel for metal detecting. After using it in the field a couple of times I wanted to find a comfortable way to carry it on my belt.
The first thing I looked at were the T-Handle holsters sold on various metal detecting websites. While they look nice, I tend to take spur of the moment detecting trips (lunch breaks at work, etc) and I don't like the idea of having to take my belt half way off to mount a holster. I'd much rather have something that can quickly clip on and off. Another problem with the holster design is that the T or Ball end is mounted at belt level so the digging end of the shovel tends to swing and bang into your legs as you're walking.. Ouch!
I also considered a "sheath" but then remembered that they tend to fill up with dirt if you don't clean your shovel between digs. Nah.
I wanted to figure out a way to hang the shovel so that the T or Ball end would be 6 to 8 inches above my belt line. This way, not so much of the length of the shovel is swinging as I walk. So I'm sitting there drawing out some designs on paper and as I was looking at my ink pen it hit me! Why not mount a clip on the shaft itself, just like the one on my ink pen. This way I can mount it anywhere that I want. So I cut out the basic shape on the CNC plasma and made a few bends. The Hip-Clip was born! Simple and effective!
Advantages of The Hip-Clip:
Works with both T-Handle and Ball Handle shovels.
No extra gear to carry since the clip is mounted on the shovel itself.
No need to remove your belt for mounting. Just clip it and go!
Can be mounted anywhere on the shaft to reduce the "swinging" effect when walking.
Cost effective! The Hip-Clip is one of the least expensive options available.
Compatibility: The Hip-Clip can be installed on any shovel with a shaft that is 1" in diameter. This is the standard shaft diameter for most popular detecting shovels such as those sold by Predator Tools. Some models may require minor tweaking to get the clip around the shaft. See installation instructions for further details.
Note: Please keep in mind that these are not stamped out by the dozens from a machine. Each one is deburred, bent and painted by hand. Although I try my best to keep them as uniform and consistent as possible, you may notice slight variations in the shapes.
Color: Currently available in flat black only.
Shipping: Shipping & handling in the US is flat rate $5.99. Sorry, we do not ship individual Hip-Clips internationally. However, we do offer bulk discounts to dealers both local and international. Dealers please contact us for more info. Customers, if you live outside the US please contact your local metal detecting dealer and ask them to place an order. Items are shipped within 4 business days of placing your order. We ship on Tuesdays and Fridays. Orders placed after 10:00AM on Tuesdays will ship on Friday. Orders placed after 10:00AM on Fridays will ship the following Tuesday.
Authorized Dealers:
Diggin with Robbo - New South Wales, Australia
Returns/Warranty/Legal: Returns for full refund of purchase price excluding return shipping accepted within 30 days of purchase. You will have to pay for the return shipping. No refunds will be issued if unit has been abused. The Hip-Clip LLC warrants products to be free from defects in material and workmanship under normal use and if properly installed for a period of 30 days from date of purchase. This shall constitute the sole remedy of the purchaser and the sole liability of The Hip-Clip LLC to the extent permitted by law, the foregoing is exclusive and in lieu of all other warranties or representations whether expressed or implied, including any implied warranty of merchantability or fitness. In no event shall The Hip-Clip LLC be liable for special or consequential damages.
Sorry, we do not ship individual Hip-Clips internationally.